Construction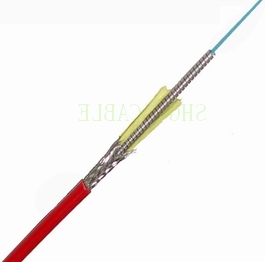 Description
Indoor Armoured Fiber optic cable, 1~12 G.652D / G.657A 900um or 600um tight buffer fibers, covered with spiral
stainless steel tube armour, then with kevlar and stainless steel braiding, FR / UV PVC or LSZH outer sheath.
Excellent performance for multi-purpose.
Applications:
◇ Infrastructure cabling, especially on the extremely adverse environmental condition for construction;
◇ Ideal for use in optical device, equipment;
◇ Pig tails and Patch cord
Features:
◇ Excellent mechanical property & environment property, Anti rodent,
high pressure resistant;
◇ PVC in Flame resistant or UV performance;
◇ Small diameter, stainless steel tube armour to protect the fiber, soft, agility, convenience for connection;
◇ Satisfy various request, widely used in FTTH, high density installation.
Characteristics
Fiber count

Tight Buffer Fiber

(mm)

Cable dia. (mm)

Cable net

Weight

(Kg/km)

Min. Bending

Radius (mm)

Max. Tensile

Strength (N)

Min. Crush

Pressure (N/100mm)

Static state

Dynamic state

Short term

Long term

Short term

Long term

1

0.9

2.9

14

30

60

600

400

3000

1500

2

0.6

3.0

14

30

60

600

400

3000

1500

4

0.6

4.0

26

40

80

600

400

3000

1500

6

0.6

4.5

30

45

90

800

500

3000

1500

12

0.6

6.0

45

60

120

1000

600

3000

1500